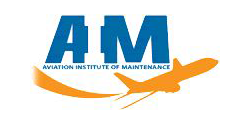 AAviation Institute of Maintenance
Training Tomorrow's Technicians
Get your college information now!
It only takes a minute.
Welcome to Aviation Institute of Maintenance – HVAC

Heating, Ventilation, and Air Conditioning (HVAC) Program
The Heating, Ventilation, and Air Conditioning (HVAC) program will prepare graduates for entry level positions within the HVAC industry. Students will receive practical hands-on instruction in Air Conditioning, Heating Systems, Residential and Commercial Refrigeration, Heat Pumps, Hydronics and many other areas. Prior to graduation, students will be provided the opportunity to take the Environmental Protection Agency (EPA) certification and the Industry Competency Examination (ICE). *Obtaining these industry certifications are not a conditioin for employment, however, some employers may require them at their discretion.
The mission of the program will prepare the student with the skills and aptitudes necessary for a meaningful entry level position in the HVAC industry. The student will learn mechanical and electrical applications in residential and light commercial Heating, Ventilation, Air Conditioning, and Refrigeration (HVACR). They will develop skills in preventive and corrective maintenance for residential heating and cooling systems and calculate cooling and heating demands for residential applications. They will identify the current laws and regulations in preparation of the refrigerant transition and recovery certification program, perform flue gas analysis for gas and oil fired heating systems and conduct residential heat load calculations using J-Right software. For more information about our graduation rates, the median debt of students who have completed the program, and other important information, please click here.
This program is offered at the following Campus:
Click on one of these possible careers in Heating, Ventilation, and Air Conditioning to learn more:
HVAC Installer, HVAC Mechanic, HVAC Specialist, Systems Mechanic, HVAC Technician, HVAC Service Technician